Level 13 Theme Rooms and Venue in Rotorua CBD with a licenced bar.
1141b Eruera Street, Rotorua, New Zealand
·
·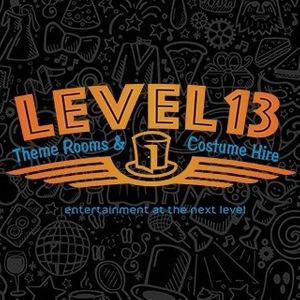 Hosted by Level 13 Ltd
SpacetoCo Host since September 2019
Theme Rooms to inspire and take you to another world
---
About this space
Level 13 Theme Rooms and Costume Hire
Situated in the heart of Rotorua's CBD you'll find a hidden gem in Level 13 Theme Rooms and Costume Hire. Take your event to the next level.
Jeff Flitton and Deb Rowles hail from a background in film and television (Underworld, The Bill, Avatar – to name drop just a few) bringing their skills in set design & costumes to life at the only private themed venue hire in Rotorua.
Pick and choose from or hiring the entire venue for your next big event to just picking a smaller room for your next fun intimate get together with friends, change it up every time you visit. All guests have the added option of booking a costume to compliment the event coupled with their own actor/waiter as we have murder mystery games to hire.
The rooms are bespoke, food and beverage packages are tailored to suit each client requirements.
Entire Venue
Book the entire venue and let your creativity go wild with your costumes, guests have the flexibility of dressing to suit their own style – 1920's, Steampunk, Vikings, Game of Thrones, Star Trek, Star Wars or just flag the dressing up part and just enjoy hanging out in a funky venue for your next event.
Rocket Room
If you like science fiction and are a fan of films like Alien and Predator, then this is the party room for you. The room is themed to give the worn universe look made famous by those movies. The ceiling features a complicated grid work and wall details that hide lights which pulse and glow to enhance the atmosphere. At one end cryo tubes contain some of the more interesting specimens in our lords collection, but there is no need to fear as they are all kept under lock and key, and they rarely escape.
Transport yourself to the post-apocalyptic space scape of Rocket Room. Get your geeks and freaks together for futuristic fun and games nights,
The Ritz
Inspired by the glamour and glitz of the roaring 20's, this room contains all the pop, bang and whiz of a bottle of champagne. Art Deco is the overriding influence of this room with its geometric patterns and use of black, gold and metallic sparkle. Other features include the ability to be combined with the Speakeasy room to double the space.
The feminine side of the 1920's is reflected in the Ritz Room. Both the Ritz and the Speakeasy lend themselves to a gangster, art deco, roaring twenties, poker themes & also can expand out for a fantastic day venue for a small conference/corporate meeting.
The Speakeasy
The masculine side of the 1920's is reflected in this side of the room This room takes its look from the gangster run secret bars of the 20's & 30's during a period known as prohibition, when drinking alcoholic beverages was banned. The walls are decorated in a homage to this time and the events that happened. Other features include the ability to be combined with the Ritz party room to double the space.
Concertina doors between The Ritz & The Speakeasy open up to make the room larger if required
221B
A quiet nod to the Sherlock Holmes era, this room is reminiscent of a Victorian parlour. Take a high tea with friends or go Steampunk! Do you enjoy the writings of Conan Doyle and Jules Verne? Then this is the room that will enchant and delight you! This is a vision of a Victorian world powered by steam and held together by rivets. A time where anything could be made as long as it was made of cast iron, and being stylish meant a tall hat and a large bustle.
"The Keep"
Step back to Medieval times, become a hoard of raiding Vikings or playout your favorite Game of Thrones scenes (minus the battles & the R18 stuff) In this room, we have tried to capture the moody atmosphere of the medieval dark ages that has been made very popular on screen, as in Lord of the Rings and Game of Thrones. In this period stone and rock was the only way to build, the best rooms had a throne in it, and this is the style of The Keep room. Other features include a raised platform for the throne so birthday boys and girls can look over their guests. The solid chairs and tables are arranged around a fire pit
The rooms all open out to the meeting room where there is a bar. We are also able to create a performance space that can seat 55 people.
Why have a meeting/conference in a boring white room when you can be inspired to think outside the box and have a business function here.
---
Opening times
Tuesday
7:00am - Midnight
Wednesday
7:00am - Midnight
Thursday
7:00am - Midnight
Saturday
7:00am - Midnight
---
Rules
No smoking, no excessive noise This is a full supervised licenced premises with a full bar onsite. Under 18's can only enter with a parent or guardian. Food and beverages (except for birthday cakes) must be ordered via Level 13. We have a supervised licence available from 9am-1am. If you look under 25 you will need ID NZ driving licence, 18+ card or passport.
---
Additional details
Host's Cancellation Policy
100% refund on cancellations up until 14 days before your booking. After that,

there are no refunds on cancellation.
Space Terms and Conditions
This Space is covered by SpaceProtect
---
Frequently asked questions
---